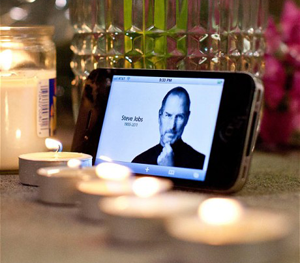 Steve Jobs, the Apple founder and former CEO, has died at the age of 56 after a long battle with cancer. "The world has lost a visionary," Barack Obama says in tribute.
Steve Jobs started Apple with a high-school friend in a Silicon Valley garage in 1976.
Perhaps most influentially, Mr Jobs in 2001 launched the iPod, which offered "1,000 songs in your pocket." Over the next 10 years, its white earphones and thumb-dial control seemed to become more ubiquitous than the wristwatch.
In 2007 came the touch-screen iPhone, joined a year later by Apple's App Store, where developers could sell iPhone "apps" which made the phone a device not just for making calls but also for managing money, editing photos, playing games and social networking.
And in 2010, Mr Jobs introduced the iPad, a tablet-sized, all-touch computer that took off even though market analysts said no-one really needed one.
By 2011, Apple had become the second largest company of any kind in the United States by market value. In August, it briefly surpassed Exxon Mobil as the most valuable company.
Steve Jobs is an "innovative spirit" who will be remembered forever.